Abyss Series Travel Tins
Regular price

Sale price

$10.00 USD

Unit price

per
Scent Notes

Mariana Trench
Top Notes: Citrus, Sea Salt, Ozone
Middle Notes: Plum, Cardamom
Base Notes: Amber, Dark Musk

Catacombs of Paris
Top Notes: Sage, Orange, Grapefruit
Middle Notes: Lavender
Base Notes: Oakmoss, Amber, Tonka bean

Halley's Comet
Top notes: Teakwood, Bergamot, Geranium
Middle notes: Plum, Leather
Base notes: Sandalwood, Dark musk, Patchouli
Candle Safety Tips

Trim your wick to 1/4 inch before you burn it every time, this helps prevent smoke and tall flames.

Stop using your candle when only 1/4 inch of wax remains. 

Don't burn your candle for more than 4 hours at a time (don't you want it to last?)

Keep stuff out of your candle, including wick trimmings or matches.

Don't leave your candle in a room alone, it has separation anxiety.

Make sure your candle is away from flammable material and is on a fire resistant surface. 

To put your candle out, close the lid! This keeps it from smoking everywhere.
These travel tins are perfect for sampling scents - each tin contains 2.7 oz of black soy wax and burns for roughly 16 hours.

Share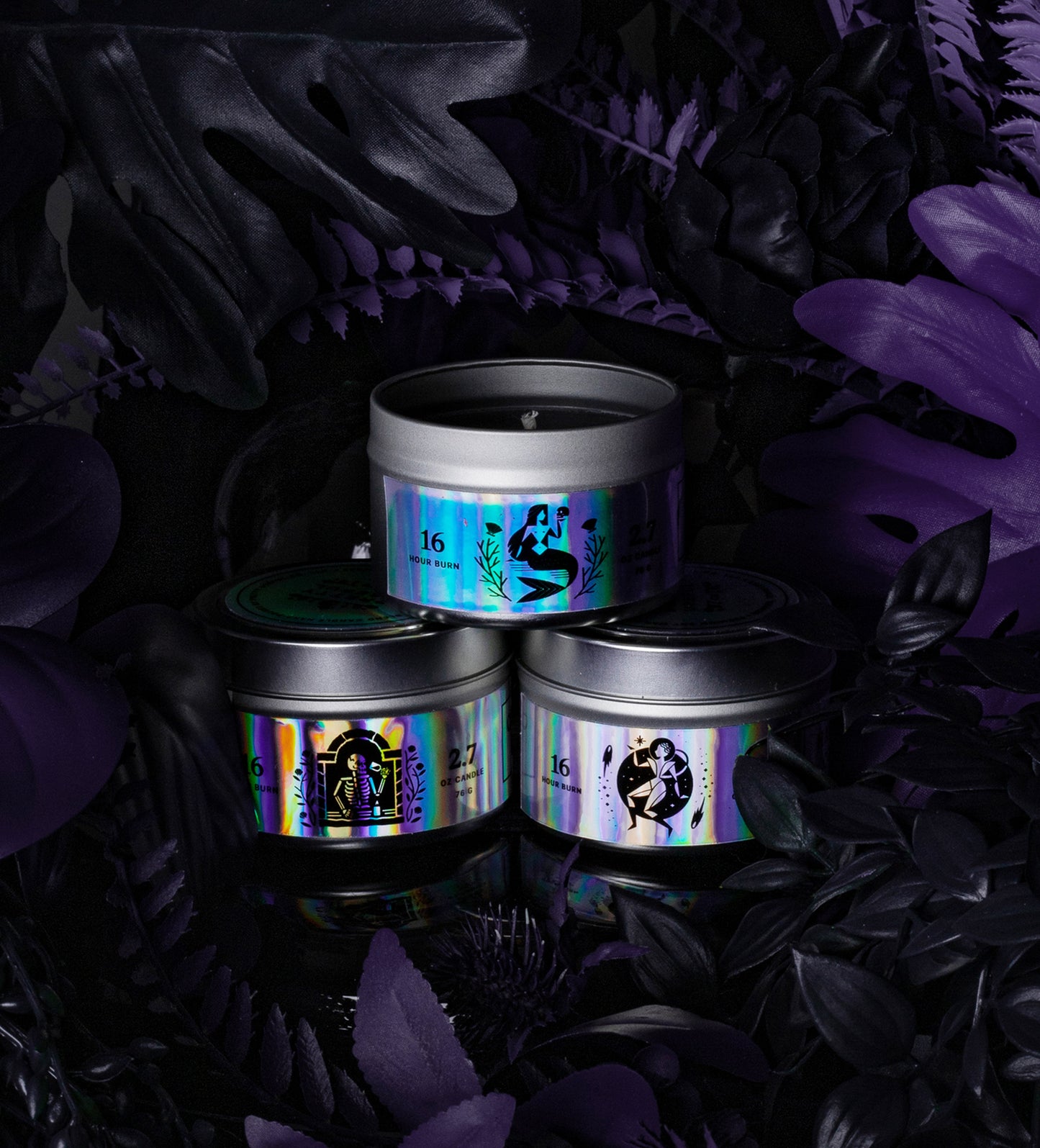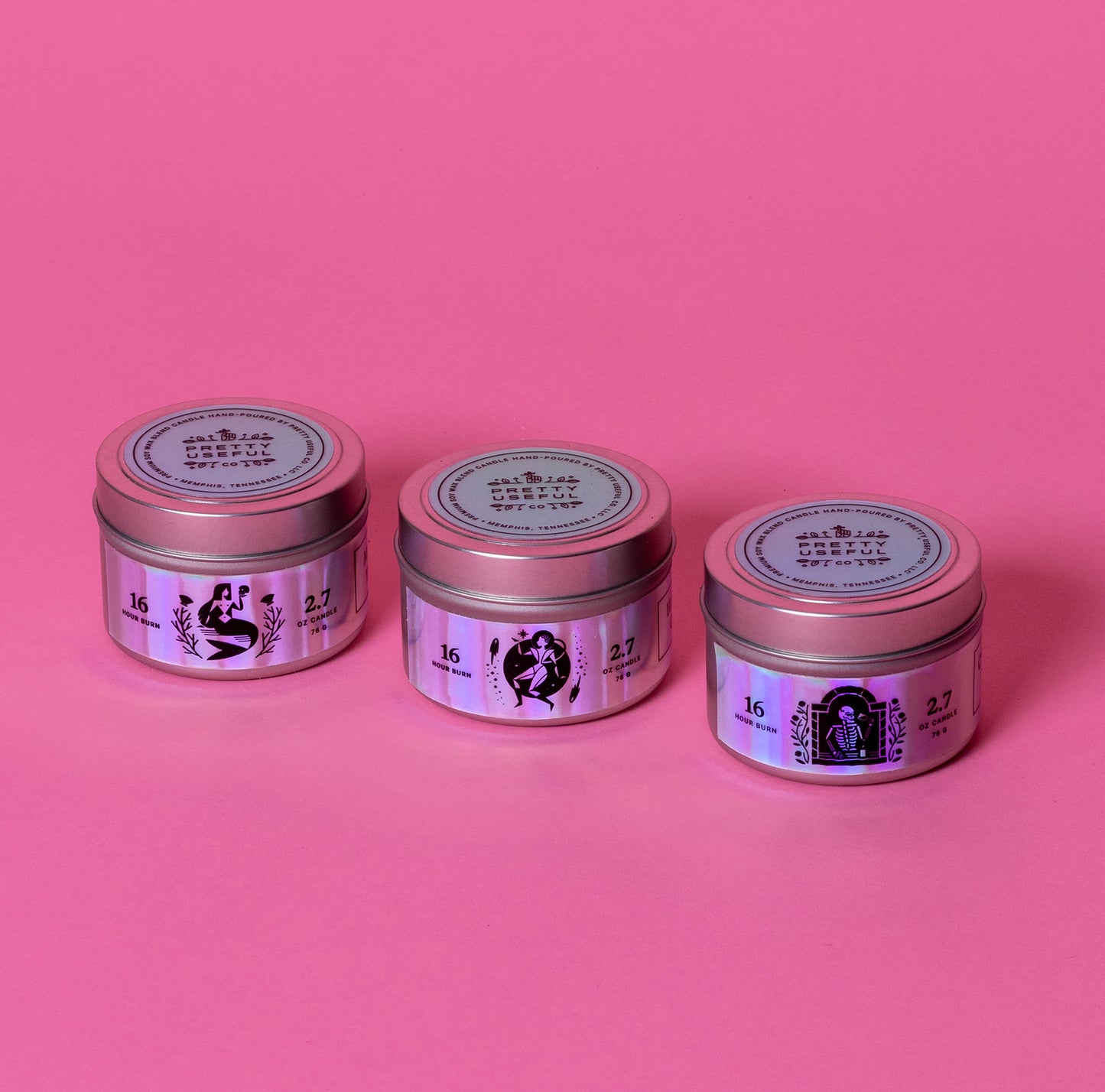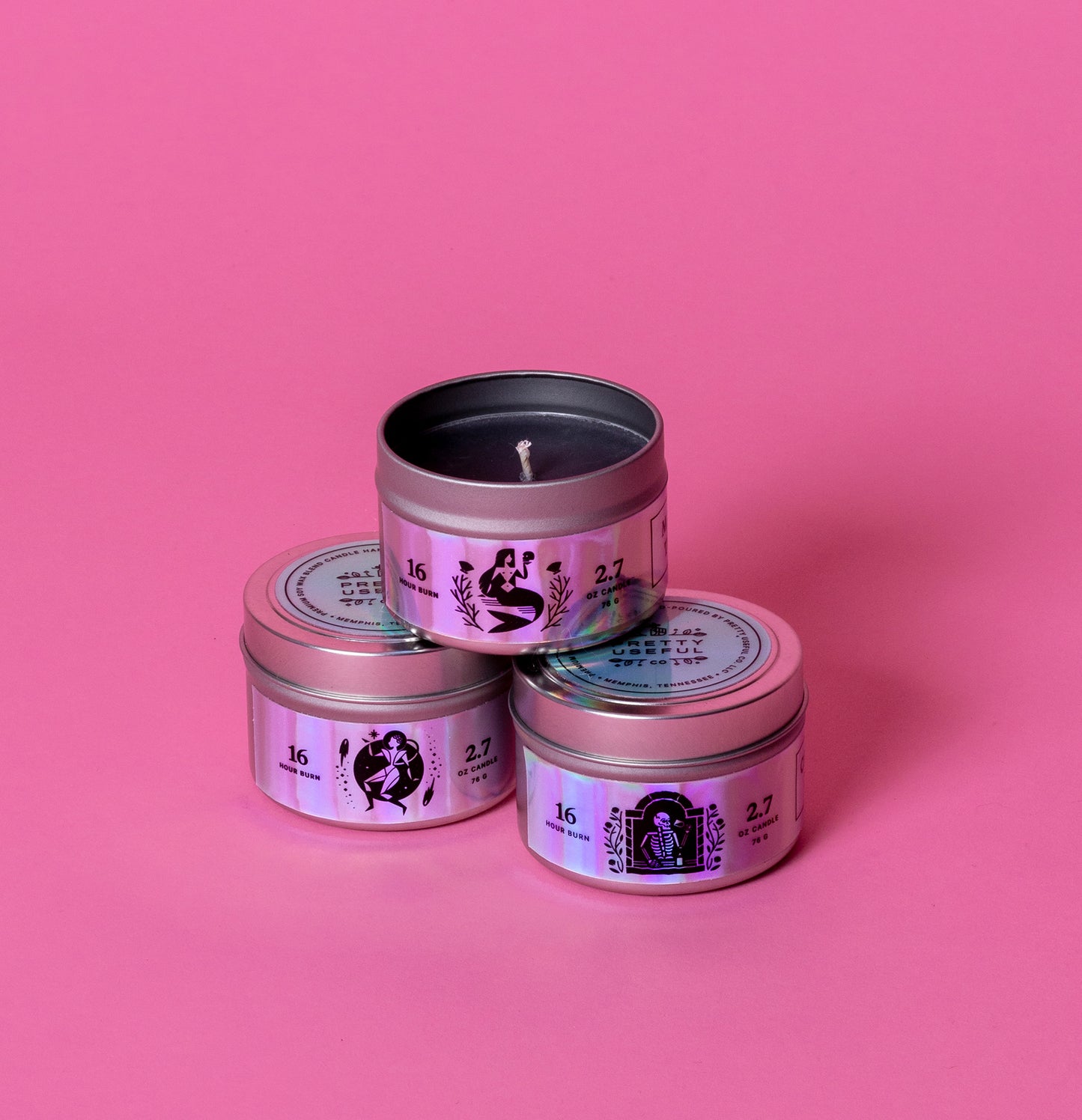 Hand-poured premium soy wax

That's right, we do this all ourselves! Our candles are hand-poured (by us!) with love using premium soy wax.

Amazing scents

Our 8.5 oz soy wax candles will burn for roughly 50 hours and are strong enough to fill even large rooms. Our travel tins are perfect for sampling scents, with each tin holding 2.7 oz of soy wax and burning for roughly 16 hours.

Scent details

Mariana Trench
Top Notes: Citrus, Sea Salt, Ozone
Middle Notes: Plum, Cardamom
Base Notes: Amber, Dark Musk

Catacombs of Paris
Top Notes: Sage, Orange, Grapefruit
Middle Notes: Lavender
Base Notes: Oakmoss, Amber, Tonka bean

Halley's Comet
Top notes: Teakwood, Bergamot, Geranium
Middle notes: Plum, Leather
Base notes: Sandalwood, Dark musk, Patchouli